Complementary Symptom Management for Cystic Fibrosis (for healthcare professionals)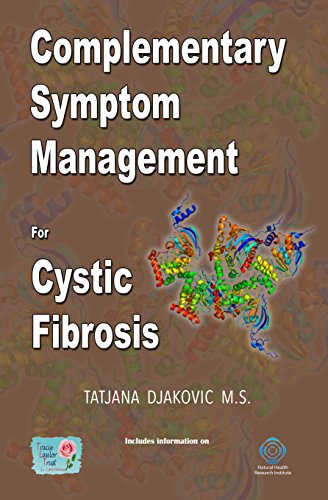 Complementary Symptom Management for Cystic Fibrosis
By Tatjana Djakovic M.Sc
Co-authors Paul Quinton PhD, David M. Orenstein M.D., John Mark M.D., Leonid Ber M.D.
"This book produced by the Natural Health Research Institute (NHRI) and Tracie Lawlor Trust for cystic fibrosis (TLT4CF) on complementary symptom management for Cystic Fibrosis (CF) is meant to bring together some of the most widely used complementary treatments for CF and establishes a solid evidence base for the expanding role of alternative approaches within the integrative medical field. The vast and varying complementary and integrative health field categories can make it daunting for a healthcare professional to have adequate ease to access evidence based integrative medicine easily.
This booklet summaries the evidence into a systems approach addressing the most commonly affected organs in those with CF and provides some complementary management options which may be effective. The booklet also ventures into CF related diabetes occurring more often and becoming a significant burden within the CF community.
Mental health problems, which often occur in those with debilitating disease, are also discussed in relation to those with CF. The booklet also notes where there is a lack of evidence in certain areas and is keen to acknowledge this fact while providing a clear and concise evidence based approach to the reader.

Also includes a upper safety limit table on all discussed herein."
Where to buy worldwide on kindle please follow the link listed and add to cart
https://www.amazon.co.uk/dp/B07CFTSD4J (Kindle – Ireland/UK/rest of the world).
For USA customers please go here Link:
https://www.amazon.com/Complementary-Symptom-Management-Cystic-Fibrosis/dp/0692904018/ref=tmm_pap_swatch_0?_encoding=UTF8&qid=&sr= for paper back edition (USA only).
If you would like a paper back copy (outside of USA) please follow instructions below:
Go to "Just Giving" here: https://goo.gl/lwn5bM and donate as applicable.
Price €30 for the book, postage within Ireland €3 rest of the world €5.50 as it currently stands.
We cannot post or sell to the USA as NHRI sell the book there.
For a paperback make a donation through "Just Giving" here
€33 donation for postage within Ireland.
€35.50 donation for postage to rest of the world (excluding USA)
Include your name and be sure NOT to click "hide donation amount".
Screenshot your donation, then mail us on our Facebook "Tracie Lawlor Trust for Cystic Fibrosis" or send an email to info (((AT)) tracielawlortrust.com please remove brackets and use the symbol for "at" before emailing.
Include a screenshot of your donation, name and your mailing address.
As all the tools we use don't cost us and we are all volunteers this is why it is slightly awkward but saves on admin!! So again donations received go back into C.F. assistance, awareness and CAM research.